Live Performances
Chhandayan musicians are available for special occasions such as wedding, anniversary, birthday, reception, inauguration, gallary opening etc. The most common and popular demand for such occasions is the Sitar and Tabla duet. But we have also kept the size and make of the ensemble open and flexible to fit the specific requirements of the presenter. Chhandayan's reputation is based on prompt and professional service in terms of handling the booking procedure and quality of the music. Our musicians are equally qualified to provide the perfect ambient music for every occasion and also satisfy close listening. They would also be prepared to offer explanation on certain aspects of the music and instruments, if requested.
The musical repertoire ranges from traditional raga music to a fusion of Indian with non-Indian types, depending on the situation. The size of the space and the number of attendees would determine whether amplification will be needed or not. If needed, Chhandayan can also arrange the sound system at an additional cost. The musicians would always need to be set up on a riser covered with an area rug to ensure decency and honor.
Contact Us at info@tabla.org for more information
Maitri - A Musical Dialogue between Sarangi and Tabla
Renowned Indian classical music maestros present solo performances on two of the most celebrated instruments from North India, both storehouses of enormous musical possibilities disguised under their popular roles in accompaniment.
First Half:
Pandit Ramesh Misra, Sarangi solo.
Samir Chatterjee, Tabla accompaniment.
Second Half:
Pandit Samir Chatterjee, Tabla solo.
Ramesh Mishra, Sarangi accompaniment.
Duration: Flexible, based on presenter requirements. Recommended 90 minutes of net presentation (45 minutes each half and a fifteen minute intermission).
Sarangi, "instrument with 100 colors", is over 700 years old with 39-42 strings: 3-4 playing strings (made from gut), with 36-39 resonant, sympathetic strings (made of metal). The Sarangi is held vertically and played with a bow held in the right hand, while the cuticles of the left hand glide along the strings to vary the notes. The lack of frets makes the Sarangi one of the most impressive instruments for presentation of Indian classical ragas, as the musician is able to display the full range of microtones and quarter tones. The technical difficulty of the Sarangi has resulted in very few maestros practicing or performing in the world, today. Pandit Ramesh Misra is one of the most outstanding exponents of this ancient art, transforming intricacies of technique to sounds that stir audiences worldwide.
Tabla has grown to be one of the most popular percussion instruments in the world. Originating over 250 years ago in North India, it is the most powerful representative of the Indian rhythmic system. Tabla is a highly developed two-piece drum set of bayan, bass, and dahina, treble, composed of wood, metal and goat hide. Among Indian percussion instruments, the tabla is uniquely capable of producing a range of tones, adding rich melodic elements to the complexities of Indian rhythms. Pandit Samir Chatterjee is one of the world's leading tabla players. His playing is renowned for its evocative vocal and rhythmic dimensions.
Contact Us at info@tabla.org for more information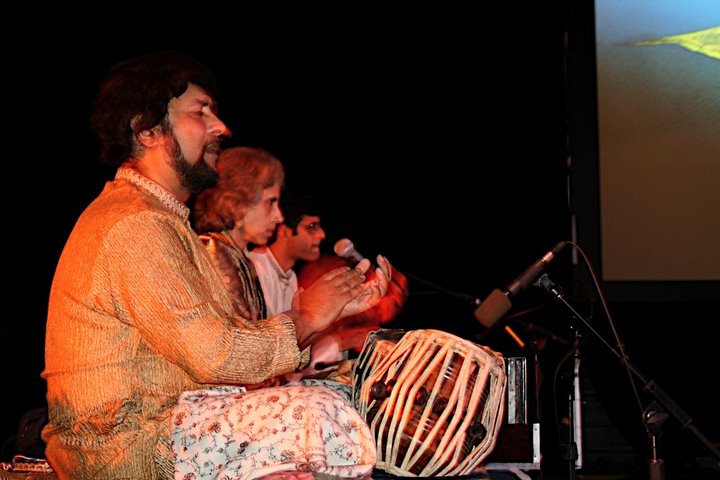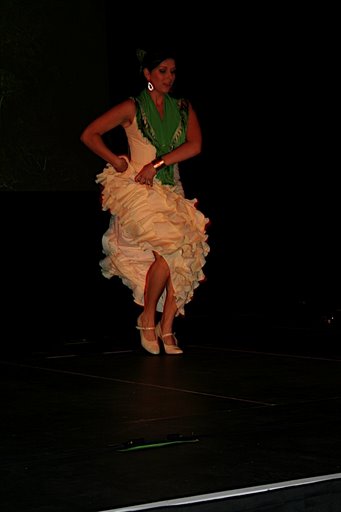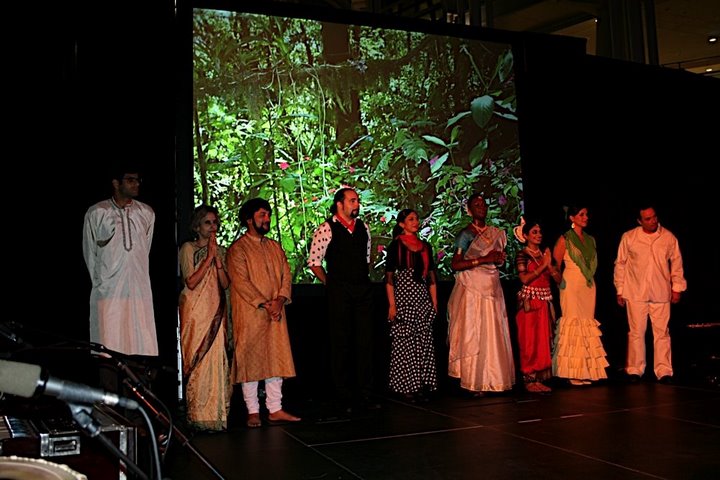 Indo-flame is a unique blend of Indian and Flamenco music and dance. Conceived out of the evident connection between the two the project is more of a discovery than an invention. Each and every piece reveal this truth. The project is developed through a number of pieces. The music is exhilarating and the choreography is spectacular. This is a perfectly suitable piece to present in any social or multi-cultural event, fund-raiser or receptions.
Some of the oldest traditions of our music, such as Indian music, were created at a time when we had a better connection and relationship with Nature. We lived and grew together in harmony nourishing each other as an integral part of the Creation. Music came as a spontaneous outpour in response to the natural phenomenon manifested into human emotions. That is how and why musical frequencies had an inevitable correspondence to the surrounding environment. It came from Nature as a source of inspiration and influenced its listeners who are not only from the animal world but also from every other aspect of the universe. Such is the power of music, if presented in its real essence. In the Indian tradition, Ragas, which may inadequately be described as melodic modes, were created and meant to be performed at particular times of the day or year. This was because of the correspondence of the frequencies embodied in those melodies with relevant conditions of Nature. Thus the reciprocity of cause and effect was enhanced. In the present-day situation, when we have somehow lost that communion with Nature, many of those concepts may have lost their proper significance in our daily hectic lifestyle and we often tend to disrespect and discard what we cannot easily comprehend. We force ourselves into frenzy when Nature is about to rest. We are tired when Nature is ready with freshness. Dawn to Dusk reminds us of this Natural phenomenon of changing energy not only in our environment but also in human behavior.
Description
Dawn to Dusk is a depiction of the spectacular changes in Nature and its influence on human behavior through the course of the day. These passages are portrayed through music coming from varied Indian traditions of classical, folk and others and combined with a touch of modern/new age music. It is further enhanced in its realization by additional digital audio and visual effects. Music, almost a complete language in itself, is linked through narration in English with relevant excerpts from original texts in Indian languages.
Ensemble
Pt. Samir Chatterjee – Tabla and other Indian percussions
Pt. Ramesh Mishra – Sarengi
Mr. Steve Gorn – Bansuri
Ms. Allyn Miner – Sitar
Mr. Ned Rothenberg / Rudresh Mahanthappa– Saxophone
Mr. Miles Okazaki – Guitar Synth
Mr. Frank Colon – Western Drums & Percussion
Smt. Sanghamitra Chatterjee – Vocal
Mr. Rajkumar Rizvi / Suman Ghosh – Vocal
Ms. Gargi Mukherjee – narration
And a techincal crew
World Percussion Ensemble
Chhandayan World Percussion Ensemble (CWPE) showcases a variety of percussion instruments from different parts of the world. Instruments are chosen from India, the Middle East, Africa, South and North America in consideration to the variety and richness of their traditions. The highlight of the featured pieces are their thematic content, tonal and contextual relevence. All of the pieces are developed on powerful and exciting rhythms that reflect complex rhythmic and melodic orchestrations.
The group comprises some of the most dexterous and sensitive drummers on the instruments. In this proposal, we include detailed bios of all the participants in the WPE. We have further outlined the specifics of each instrument being played in this ensemble. A brief history of the instrument is given, how it is made, what are the characteristic tonal qualities of the instrument, and what, if any, is the contemporary significance of the percussion instruments played in the WPE. In this ensemble, composed and directed by Pandit Samir Chatterjee, there has been a compilation of a beautiful array of percussion instruments, which combine to produce the most joyous music one can rarely experience. The range and scope of this music extends from the vibrant drumming that one hears in the festas in Brazil and tambors in Cuba, where people gather to hear drumming in the religious ritualistic expression of the Orisha religion (from the Yoruba nation of West Nigeria), to the melodious devotional rhythms of the bauls or syncretists of Bengal in India and Bangladesh.
WPE tries to capture the spirit of fusion in world music where particular musical traditions seek no geographical boundaries and limitations. It is free to move beyond horizons, to be incorporated in other cultures. In the end, what evolves is a blending of the original with the adopting culture. For example, music that was once specific to a tribe in Africa has been traveling with people all over the world and gets incorporated in a religious festival in Brazil or Cuba and is till date performed there. Such is the nature of hybridity. The Arabic music/rhythm tradition begins in the caravan song — the vocal music of the nomad. Often a simple percussion instrument (for instance a stick) was used to beat out accents. As the nomadic life was exchanged for urban life new instruments were developed and the notion of a larger repeating rhythmic cycle emerged.
As the cultural empire of the Arabs expanded, matured and moved through the greater Middle East and through North Africa into modern Spain, it brought an academic attitude toward music. Local traditions were integrated and new forms and instruments developed. The music traditions of North Africa are still today heavily influenced by Arabic Empire roots rather than by the rest of mainland Africa. Modern Middle Eastern music is a fusion of local folk traditions, the remains of ancient classical forms, and aspects of western popular and sometimes classical music.
Keeping the hybrid trend in mind, Samir Chatterjee creates a fusion of sounds with different percussion instruments. Each instrument produces a sound that mingles with other instruments and evolves into a unified sound. The rhythms move from the microcosm to the macrocosmic expression of music. The ensemble effect helps to culminate in one unique sound that speaks of droplets of music from all over the world.
Instrumentation
Tabla, Shri Khol, Ektara, Dholak, Dhak, Gub Gubi, Dumbeck, Darabuka, Bodhran, Bendir, Tar, Riq, Drumset, Bata, Conga, Djembe, Bongo, Udu, Cajon, Berimbau, Cwica, Pandeiro, Jingle, Chequere, Shaker, etc.
Ensemble

Samir Chatterjee : Tabla, Shri Khol, Ektara, Gub Gubi, Dhak, Dholak
Frank Colon : Conga, Bata, Cwica, Pandeiro, Berimbau, Chequere
Emiliano A. Valerio : Conga, Udu, Cajon, Bata etc.
Daniel Weiss : Drumset, Bauron etc.
Donald Eaton : Bata, Djembe, Bongo etc.
Yousif Sheronick : Tar, Riq, Darabuka, Bendir, Bodhran, Dumbek etc.
Mario Monaco
Chhandayan World Percussion Ensemble is an excellent group of highly professional musicians. They all put in their very best to make this ensemble a unique, fulfilling, and enriching musical experience for every listener. There has been a lot of research done on this project to bring together the finest music of the world, music that produces joy and happiness, that is therapeutic and recreational at the same time.
Please be with us in spreading the joy of music all around us.
Raga-Rock is a unique blend of Indian classical and rock music, a successful collaboration between Samir Chatterjee from India and Salman Ahmad, a popular Sufi-Rock singer and guitarist, leader of Pakistani band Junoon.
Samir and Salman have been collaborating for a number of years. They have performed together in several important venues and occasions around the world, including the 2007 Nobel Peace Prize Ceremony, UN General Assembly, Carter Foundation, Kashmir, Jaipur, Karachi, Spain, Costa Rica and several reputed universities colleges and institutions within the United States such as Cornell University, Yale University, Stanford University, Unversity of Texas, Northwestern University etc..
These two musicians of extraordinary caliber exemplify unity and harmony at a personal level, naturally generating through their music. They are ambassadors of peace. Salman is officially recognized as a UN ambassador. Their musical collaboration is vibrant with positive energy that can attract and stimulate people of all generations and preferences.
Rabithakur
A ballet on the life of Tagore
Conceived, Composed and Directed by Samir Chatterjee
Music arrangement and conducting by Cristiano Tiozzo
Choreographed by Ryan Daniel Beck
Rabindranath Thakur, also known as Tagore, had a very complex life. He was continuously in the midst of ambivalence driven by uncertain preferences between the east and the west, city and village, isolation and company and many such dichotomies. Yet, how he churned out the nectar from this ocean of turmoil is a miracle to observe. The emotional upheavals of Tagore's life contributed enormously into the making of what he became, and they always found expression in his creativity. He had failures as much as successes, shortcomings as well as triumphs. The study of such juxtaposition is important in understanding what made him so different, so far elevated from the rest of us: how he transcended from mere human to the superhuman level.
RabiThakur is a portrayal of the intricate pattern of Rabindranath's emotional life through music and dance movements. Rabindranath himself said, "In my life I may have done many things that were unworthy, with or without knowing, but in my poetry I have never uttered anything false; it is the sanctuary for the deepest truths I know." RabiThakur is our approach to that Truth. It is developed in seven movements.
Movement I : Childhood – adolescence:
Prevailing emotions : curiosity, mystery, wonder, expanded connection with nature and tradition.
Movement II : Early youth
Prevailing emotions : anticipation, enthusiasm, excitement and frustration, romance, ecstasy, confusion.
Movement III : Youth
Prevailing emotions : shock, transience of life, confrontation with the eternal phenomenon of the life, restlessness, transformation finding creative expression.
Movement IV : Matured youth
Prevailing emotions : validation, motivation, galvanized to change.
Movement V : Middle Age
Prevailing emotions : satisfaction in the realization of utopia, peace, settlement
Movement VI : Matured Age
Prevailing Emotions : trust in the qualities of mankind, in the universal unity of intellect, blend of east with west
Movement VII : Death/Passing
Prevailing emotions : Concerned on the degradation of mankind, struggle to reinstate faith in the qualities of human beings
Tablaphilia
A Tabla Symphony based on Chaturashram: the four stages of human life.
Tablaphilia is a unique symphony of tabla. It is based on the central theme of Chaturashram, the four stages of human life. Composed and directed by renowned tabla maestro, Samir Chatterjee, this Symphony of Tabla brings together the power of 22 thundering tablas and four melodious vocals to produce a moving, inspiring and thought-provoking experience of the philosophy of sound.
This 70-minute piece interprets the four stages of human life (ashrams) as perceived and maintained in ancient Indian society. The first stage, Bramhacharya, identified as the student life, is meant to be dedicated to the pursuit of Brahma, the creator – our source and destination. In this stage, we are meant to be engaged solely in the pursuit of real knowledge and wisdom. In the next stage, Garhastha, one chooses a vocation and begins a family life to apply the knowledge and observations acquired in Brahmacharya. Retirement, or Banaprastha, is a transition out of Garhastha, after fulfilling life's obligations, still having one step in the city and extending the other into the forest. The final stage of Sanyasa brings together complete renunciation of the material world with a feeling of pure ecstasy.
In Tablaphilia, we get a reminder of the differences we have created in our approach to all of these (different) phases of our lives, losing their true significance(s). For example, in modern time, Brahmacharya is often engaged in a selected field of study geared toward a particular type of vocation as opposed to being dedicated to the pursuit of truth and comprehensive knowledge about the governing phenomenon of life. Garhastha is the stage we like the most and prefer to drag on to consume the whole of our lives. Retirement is most often painful, contrary to how it used to be perceived in the past, as release and preparation for complete freedom. Modern society has designated Sanyasa for only a particular group of people (only). Tablaphilia reestablishes these stages of our lives, which we live anyway, with greater value and significance. It relates to everyone living this life, irrespective of their varied backgrounds.
The experiences of these different phases of life are expressed through the abstract drum-language of tabla. Tablaphilia uses many of the musical principles, common in western symphony, such as harmony, counterpoint, canon etc. and embraces them in the musical experience that is purely Indian. It uses different traditional taals (rhythmic cycles), ragas and compositions produced out of the sound of tabla, enhanced by vocal inserts, and creates a soundscape that naturally relates the theme to the audience, making it accessible even to the untrained listener. They come out with a wholesome experience of life in those 70 minutes. Tablaphilia becomes more of a life-transforming experience than just a musical performance.
This enthralling production with extraordinary tonal range made its debut performance at Chhandayan's All Night Concert in May of 2009, in New York city and grew to further perfection, particularly after its successful seven-city tour of Karnataka, a year and a half later.
In the words of some well-known musicians of this style of music, "Tablaphilia has certainly expanded the range of the tabla." Another said, "it really excited me in a way I have not experienced in a long time." In October of 2011, Tablaphilia was performed in The Great Hall of the Metropolitan Museum of Art in New York City for veteran listeners of Indian classical music and newcomers alike. Museum administrators raved that, "Tablaphilia transformed the museum into a temple," and called it "a life-changing concert!" From its exuberant beginnings to its meditative end, Tablaphilia transcends nationality and culture and speaks to all those who experience it.
– Renu Nahata
Meghadutam
This unique presentation of music and dance is inspired by the sublime poetry of Kalidasa, written in the 150 BC in Sanskrit language. It is a beautiful reminder of the simple facts that no matter how advanced we may consider ourselves to be in our way of living, human beings have not really changed. We still feel the same pain separated from our beloved and we still feel the same instinct to communicate those feelings. Today we may be using SMS, back at that time they used CMS, the Cloud Messaging System.
Love has been in the center of human mind since inception, almost as the only sustaining element. It has innumerable levels of manifestation and many of its appearances are often baffling. In the Meghadutam the central theme is the pang of separation between two spouses, one of whom opts to use a floating cloud as a messenger to travel to his beloved, hundreds of miles away.
This presentation of Meghadutam is conceived and created by Samir Chatterjee, who also wrote the narration and composed many of the pieces. It is being performed by the extraordinary Rutgers faculty from the India Performing Arts Center.
Music Retreat
We've always felt that much of the beneficial effects of music are not experienced through our regular listening. The protective shield we carry around us deflects most of the effective vibrations. At an instantaneous thought it may seem hypothetical, only until we experience the difference in a properly tuned body and mind.
To create an opportunity to experience music at that level we arranged a MUSIC RETREAT – a retreat to facilitate better absorption of the effects and benefits of Indian music. According to Indian tradition it would be more appropriate to call it SANGEET TAPOBAN – a music-meditation retreat.
It was held from August 16th (Saturday) through August 23rd (Saturday) at the India Community Center, Rochester located in a very natural environment in upstate New York.
The retreat combined Yoga, Massage, Ayurvedic diet, meditation and philosophy to have a more meaningful experience of music, particularly Indian music. While Yoga, Massage and Ayurvedic diet helped us prepare the body, meditation and philosophy prepared our minds to benefit more from interactive, hands-on and concert experiences of music.
Summer is the time to stretch, the time to feel and enjoy the stretch of time, the time for well-being. Chhandayan is here to join hands with you towards a better enjoyment of life – through music.