Faculty
Abhik Mukherjee
Abhik Mukherjee is a young promising sitar player of the Etawah gharana. He received his training he received his musical training from Pandit Arvind Parikh and Pandit Kashinath Mukherjee, both of whom are the disciples of the legendary Ustad Vilayat Khan.
Amod Dandavate
Amod Dandawate's training has primarily been in the Farrukhabad style of Tabla playing. Before migrating to the USA, he was in Hyderabad, India where he was groomed by his father Dr. Vasantrao Dandawate, a disciple of the legendary Maestro Ustad Amir Hussain Khan. He received further guidance and encouragement from Shafaat Khan as an accompanist and then spent some time taking lessons from Ustad Zakir Hussain. Having settled in New Jersey he has been receiving advanced training, since 2001, as a disciple of Pt. Samir Chatterjee, a well known maestro of the Farrukhabad gharana. Besides performing solo Tabla, Amod has accompanied several eminent artists and keeps a busy performance schedule. Amod also hold a Ph.D. in Electrical Engineering.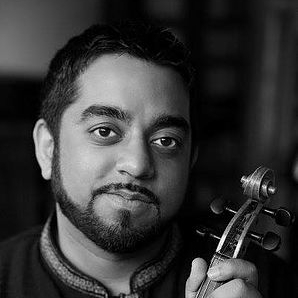 Arun Ramamurthy
Arun Ramamurthy is an exciting, young violinist who excels in several genres of music. Arun is equally at home whether he is playing a chaste Thodi raga in a temple concert before knowledgeable Carnatic music lovers, or at a trendy concert in midtown Manhattan trading solos with jazz guitarists. Arun was able to attain this versatility because of the solid grounding he received in Carnatic music, one of the most ancient and highly intricate forms of classical music.
Asish Sinha
Asish Sinha is a student of Pt. Samir Chatterjee of the Farrukabad gharana. He is the coordinator for the Pittsburgh chapter of Chhandayan music school. He has accompanied many famous artists from India. He is also a founder of the Saptak Music School where he teaches tabla and promotes Indian music among the younger generations. He accompanies many US and international visiting artists on a regular basis. Asish is a Metallurgical Engineer by profession but he has a great love for tabla.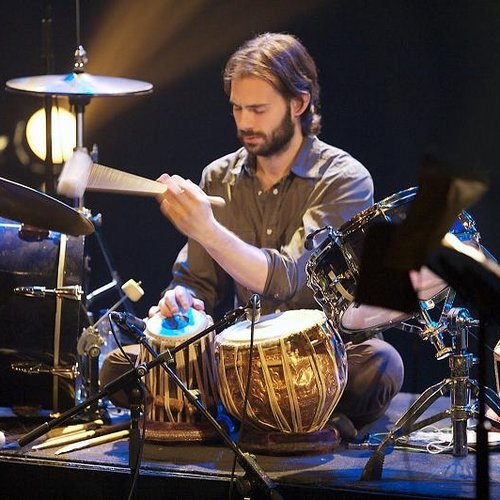 Dan Weiss
Dan Weiss has been hailed as one of the top five jazz drummers in The New York Times, and his large ensemble recording "Fourteen" made the top ten list of their best recordings of 2014. Weiss's innovative drumming and forward thinking compositions have been pushing musical limits for years. He has been studying tabla under his guru Pandit Samir Chatterjee for twenty years. He currently lives in Brooklyn where he continues to perform, tour, teach while continuing his study of tabla, Hindustani vocal, and classical piano.
Basir Khan
Basir Khan is a highly acclaimed musician. Coming from Jaipur, Rajasthan he has accompanied some of the stalwarts of Indian music. Also acclaimed as a vocalist, his technique on harmonium and Bulbul Tarang is awe-inspiring. He will instruct his students how to accompany while singing bhajan, kirtans, ghazals, film songs and other types of singing, as well as classical accompaniment.
Debu Nayak
Devapriya Nayak (Debu) was born in West Bengal, India, and began learning tabla at the age of three from his grandfather, Chaudhury Kausalya Nandan, who was an accomplished pakhawaj and tabla player of the Punjab Gharana. Later, Debu became a disciple of Pt. Radhakanta Nandi of the Benaras Gharana. In 1981, Debu came to the US to pursue higher studies and continued his tabla taalim from Maestros like Ustad Zakir Hussain , Pandit Anindo Chattergee and Pt. Samir Chatterjee. Currently Debu remains a 'Ganda Bandha' shishya of Pt. Samir Chatterjee. Debu is an accomplished soloist and accompanist. He has performed with renowned artists like Pt. Vinayak Torvi, Pt. Ramesh Mishra, Ustad Fahimuddin Dagar, Habib Wali Mohammad, Asif Ali Khan, Shahanaz Begum, Gaurav Mazumdar, Partha Bose, Mitali Banerjee-Bhawmik, Tulika Ghosh and many others.
Dibyarka Chatterjee
Dibyarka Chatterjee is a young and promising Tabla player from the Farrukhabad Gharana. His natural inclination towards music became evident shortly after his birth, and at the age of five he was initiated by his father Pandit Samir Chatterjee. Since then he has been going through the rigorous discipline of lessons and practice according to the ancient guru-shishya parampara (master-disciple tradition). He has been blessed with many performance opportunities from Pt. Jasraj, Pt. Buddhadeb Das Gupta, Ustad Shujat Khan, Ustad Mashqoor Ali Khan, Sri Moti Joya Biswas and several other prominent musicians.
Jay Gandhi
Jay Gandhi is a talented young Indian flautist. He started by learning vocal music from Smt. Kumkum Sanyal. Later on he studied Bansuri from Pt. Vijay Raghav Rao, Pt. Raghunath Seth and Pt. Hariprasad Chaurasia.
K.V. Mahabala
Mahabala started his musical pursuit through singing and Mandolin, until he found his true love in Sitar. After having initial training from his first teacher, Sri Yoga Narasimha in Mysore, Mahabala decided to seek further musical career at the Gandharva Maha Vidyalaya in New Delhi.
Mailini Srinivasan
Malini Srinivasan is a third-generation Bharatanatyam artist and the disciple of world-renowned artist Sri C.V. Chandrasekhar. She is s critically-acclaimed soloist and choreographer. Malini has presented solo Bharatanatyam to various audiences in the U.S., India and Europe.
Maulik Mehta
Maulik Mehta is a student of Pt. Samir Chatterjee. He initiated his early training in Tabla under the guidance of his father Shri Pankajbhai Mehta. He further continued his training under Prof. Sashikant Sant - Ajrala gharana ( Vidyanagar, Gujarat). Based out of New Jersey, Maulik has performed with various artists in the sugam, folk and bhajan genres of Hindustani music. He is continuing his training under the guidance of Pt. Samir Chatterjee and is a member of Chhandayan-New Jersey.
Maya Mishra
Maya Misra has studied the Kathak dance style under the late Pandit Ramgopal Misra, a great exponent of Kathak from the Jaipur Gharana (school). She has a Bachelors in Philosophy from the Scottish Church College of Kolkata. After the demise of Ramgopal Misraji, Mayaji continued her Kathak training from another well known Kathak virtuoso, Pandit Vijay Shankar. She has refined her skill and undergone further training in expressive and interpretive aspects of Kathak from the lengendary Kathak masters Pandit Birju Maharaj, Saswati Sen, Sitara Devi, Pandit Om Prakash Maharaj and Dr. Malavika Mitra. Mayaji has a Nritya Praveen in Kathak dance.

An outstanding Kathak performer, choreographer and teacher, Maya Misra choreographed and performed several well-received ballets in Kolkata, notably "Mathura Gavan", Draupadi Cheer Haran", and Bharat Milap". Mayaji, the wife of the great sarangi maestro Pandit Ramesh Misra, teaches both the young and advanced Kathak dancers and has trained many Kathak dancers in Kolkata and New York.

Beginning to advanced classes are available in Manhattan and Queens. In addition to Kathak dance, Mayaji also offers classes in Indian Tal and Rhythm for musicians, vocalists, dancers, accompanists and Western musicians. This is an area in which performing Kathak dancers are highly trained in both tabla literature, recitation, theory and performance. It is valuable training for anyone who wants to learn the rhythms of India. Contact.
Namami Karmakar
Namami Karmakar is a promising talent representing the Kirana Gharana. She has successfully ranked in the prestigious Dover Lane Competition and performed at major music conferences and on TV channels to great acclaim.
Pradeep Chatterjee
Pradeep Chatterjee is a top rated artist on All India Radio and Television. He has travelled and performed widely throughout India and abroad. He has accompanied many of the stalwarts of the contemporary Indian Music scene as well as performing solos.
He is a disciple of the Late Pt. Amalesh Chatterjee and has continued his studies with Pt. Samir Chatterjee.
Rajyasree Ghosh
Rajyasree Ghosh is a very talented vocalist in the Hindustani vocal tradition. She is equally proficient in both classical and semi-classical music, including Thumri, Dadra, Bhajan, Tappa and Puratani songs etc. She took her talim in Nazrulgeeti from Smt. Suprava Sarkar and she is still learning Bengali Tappa, Puratani etc from Shri Ramkumar Chatterjee. Gifted with a powerful and melodious voice, Rajyasree has developed a style characterized by riveting Bandishes, reposeful Alaps and rigorous bol-taans. Her music has a special romantic flavor emerging out of her powerful yet tender approach. She is featured regularly on the national radio and television of India and holds the position of lecturer at Rabindra Bharati University, Kolkata.
Rohan Misra
Rohan Misra is a promising young musician, specializing in the unique Indian bowed instrument called the Sarangi (translation: An instrument with a hundred colors). As the son and disciple of great Sarangi virtuoso Pandit Ramesh Misra, Rohan has inherited many of his father-Guru's specialties, including tonal quality and aesthetic approach.
Rohan Started learning the Sarangi from his father at the age of six. His exposure to music since early childhood attracted him to learn other Indian instruments as well. He has been learning Tabla from the renowned maestro Samir Chatterjee. Rohan is also pursuing his education in western music, particularly focusing on the Piano and Clarinet. Coming out of the family of nine generations of Sarangi players, Rohan aspires to be successful as the 10th generation in his lineage. He also wishes to further his musicality by blending certain aspects of western music into his heritage of Indian classical music to emerge with a unique musical expression.
Rohan has performed at the Carnegie Hall, Columbia University, Massachusetts Institute of Technology, The Smithsonian Museum in Washington, D.C., California and North Carolina. He has performed with luminaries such as Pt. Birju Maharaj, Smt. Kumudini Lakhia, Pt. Anindo Chatterjee, Samir Chatterjee, among others. He is on the faculty of Chhandayan Center for Indian Music in New York City.
Samarth Nagarkar
Samarth Nagarkar is and extremely promising Indian classical vocalist. He is known for his eclectic, captivating performances rendered within a traditionally rich approach towards raga exposition and gayaki. He is a disciple of Pt. Ulhas Kashalkar and Pt. Dinkar Kaikini. After graduating ITC Sangeet Research Academy, Kolkata, Samarth relocated himself to New York pursuing an active career as a leading performer, composer, teacher and author.
Samir Chatterjee
Samir Chatterjee is a virtuoso Tabla player of India. He travels widely across the world throughout the year performing in numerous festivals as a soloist or with other outstanding musicians from both Indian and western musical traditions. Samir performed at the Nobel Peace Prize ceremony in Oslo, Norway on December 10th, 2007. His compositions are widely acclaimed as well as his writings. He has authored 'A Study of Tabla' and 'Music of India' and has published over 60 albums.
Sanghamitra Chatterjee
Sanghamitra Chatterjee is one of the leading vocalists of India in the fields of light and light classical music. Gifted with a sweet and melodious voice Sanghamitra focuses on Adhunik (Bengali modern song), Rabindrasangeet (songs of Tagore), Nazrulgeet (songs of Nazrul), songs of Atul Prasad Sen, folk songs, Hindi Bhajans, film songs, Geet, Ghazals, etc. She had her lessons in classical music from Pt. Usharanjan Mukherjee, Jatileshwar Mukherjee, Nikhil Chatterjee, Ajoy Das and several other prominent musicians.
Sanjoy Banerjee
Sanjoy Banerjee has enthralled his audiences at home and abroad with his sonorous voice. Initiated into music by his own aunt Smt. Basanti Chatterjee, then Smt Manjulika Dasgupta and later by Sri Ramanuj Dasgupta, for advance training he went to Pt. Narayan Rao Joshi of Kirana Gharana. He furthered his studies under Late Pt. A. Kanan, a stalwart of Kirana Gharana and started learning intricacies of our classical music from him. In 1995 he joined the prestigious ITC Sangeet Research Academy and started learning from Vidushi Late Malabika Kanan as a scholar.
Shailendra Mishra
Shailendra Mishra is an 'A' grade artist on All India Radio and National Television. He hails from Banaras though he was born and brought up in Kolkata. You can feel the temperament of Benaras Gharana (gurus- Pt Ananda Gopal Bandopadhyay and Pt Mahadeo Mishra) in his renderings while from Farukkhabad Gharana (Gurus- Pt Sameer Chatterjee and Pt Shyamal Bose) he has learnt the melodious representation of 'bols' and traditional compositions. His presentation is unique and individualistic. His solo and accompaniment concerts are acclaimed worldwide. He has played with stalwarts of Indian classical music and World music like Jazz, Persian Music etc. He has been to various parts of the world like the USA, Europe, Middle East, and South East Asia. Under cultural exchange program, his 4 years stay in Malaysia resulted in wide promotion of Indian music in general and tabla as an art in particular in south east part of Asia.
Steve Gorn
Steve Gorn has performed Indian Classical Music and new American Music on the bansuri bamboo flute in concerts and festivals throughout the world. His gurus are the late bansuri master Sri Gour Goswami, of Kolkata, and Pandit Raghunath Seth of Mumbai, who he has often accompanies in concert.
Tejas Tope
Tejas Tope is a promising young tabla player from New York. He has been learning tabla from pt. Samir Chatterjee for over 10 years. He has also atteneded many tabla and Indian music workshops. Tejas has received training in Pakhawaj from Pt. Mohan Shyam Sharma, Shri Pratap Awad, and Pt. Manik Munde. He has won several awards and prizes at music competitions. As his skill and experience have increased, he has been more in demand as a solo performer and accompanist.
Vinay Desai
Vinay is a young promising Santoor player. Having a musical background since his early teens, Vinay sought to learn Santoor after graduating from College. He received his initial training in Santoor from Takahiro Arai, an advanced disciple of the legendary Santoor player Pandit Shivkumar Sharma. In India, he learned under Pandit Shivkumar's guidance. His music is influenced by his stay in Ashrams and practices of ancient practices of meditation and Yoga. His music is both entertaining and is interwoven with the general feeling of peace and stillness.